The next Isokinetic Conference will be held on the 4th, 5th, 6th of June 2022. The venue will be, as planned, the Convention Centre il Lyon, France. The Scientific Programme is already available on the conference website www.footballmedicinestrategies.com
Due to the recent global pandemic, Isokinetic Medical Group was forced to wait for a safer period of the year to hold an in-person Conference. We are looking forward to enjoy again the special atmosphere of friendship that we have always created putting the international football medicine community under the same roof.
Until we arrive at the Conference in Lyon, we have organised 4 Virtual Summits, every three months. These Summits will bring together leading researchers, field based practitioners and thought leaders from across the world of Football Medicine, including "The Player's Voice".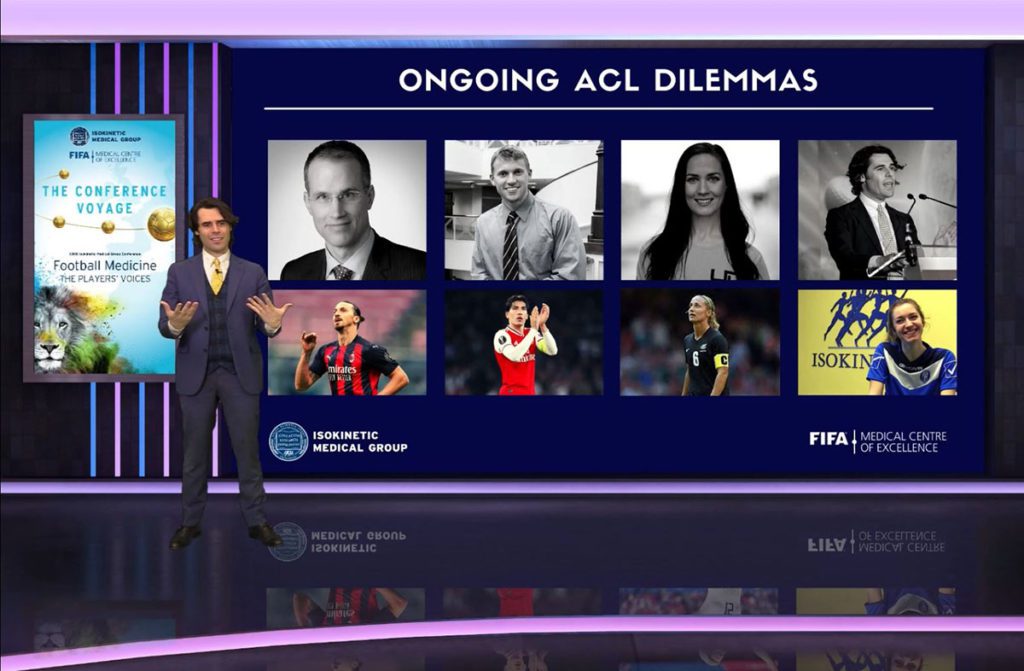 Each Summit will last 3 hours with a series of workshop style speeches and a facilitated Question & Answer section. Anyone can participate to the remaining 3 virtual summits either the Lyon Conference: a quick registration procedure can be found on the Registration section of the Conference Website. Moreover, every Virtual Summit, only a few days after the live streaming, will be available in the on-demand mode, so you won't miss any topic.
For example, let's take a look at the "Ongoing ACL dilemmas" Summit scientific programme that was held on the 18th April, and now available on-demand.
Big decision? The role of graft selection in ACL surgery Volker Musahl (USA)
Brain power for the ACL patient Dustin Grooms (USA)
More risk, more reward for female athletes after ACL injury? Nicole Surdyka (USA)
Not again! Strategies to reduce the 2nd ACL injury Francesco Della Villa (ITA)
And with the testimony of 4 players Zlatan Ibrahimovic, Hector Bellerin, Rebecca Smith and a young female footballer
On the 11th July you can bring the second Virtual Summit on holidays with you!
The scientific Programme is very interesting and full of stimulating ideas:
Changing times in Football Medicine Jan Ekstrand (SWE)
Women are more than equal: first insights from women's Elite Club Injury Studies Anna Hallén (SWE)
Muscle Injuries: the lore of Football Medicine Martin Hägglund (SWE)
High rate of 2nd ACL injury in professional football players Markus Waldén (SWE)
The speakers are from Football Research Group, founded in 2000, and a group that has authored more than 100 papers on Football Medicine. Let's get to know them better.
Jan Ekstrand: if you want to learn about Football Medicine, he is the man!
Markus Walden: Football Medicine and ACL lead researcher & orthopaedic surgeon
Martin Hagglund: a real leader in Sports Medicine research, true scientist and professor
Anna Hallen: lead researcher at Football Research Group, Women's Elite Club Injury Studies
Mike Davison, international Sports Medicine expert, both part of Isokinetic Medical Group and Football Research Group, with a wide vision on the development of Football Medicine globally, will chair the session
And stay tuned to find out which Player voices we will be able to bring!
After summer, our Voyage continues and the next stops will be:
• Thursday 11th November 2021 – Achilles tendon ruptures: from injury to RTP
• Sunday 20th March 2022 – FIFA MEDICAL: preparing for World Cup 2022
In the end what about the Conference in Lyon?
After this especially difficult period, which has been tough for everyone, it is vital to meet and exchange face to face with our colleagues and experts, it is important to hold the Conference to gather around the scientific program and to come and visit the event marked by the presence of our industry partners. Sharing of scientific knowledge is one of the foundations of our profession.
The Isokinetic Conference Team is looking forward to welcoming you in Lyon in June 2022.
We take this opportunity to thank our Sponsors, that always stay by our side, believe in in scientific sharing, gave us support and trust. You can learn more about them in a dedicated page of the Conference website. Amongst them, The Sport Group, cooperates with us for long time.
If you are reading this article, contact conference@isokinetic.com and you will receive a special price to register at the in-person Conference in Lyon, June 2022.